As the 2012 season winds down and the offseason picks up, it's time for an annual question: "What will the drivers' new paint schemes look like?"
Posted on this page are new Sprint Cup Series 2013 paint schemes. The schemes here are in order of car number; so Brad Keselowski is near the top, versus Carl Edwards is down towards the bottom of the page. Check out these new paint jobs, and tell people what you think of them in the comments below.
Keep coming back, as I will update this page with newly released schemes as often as possible leading up to the start of the new season. If you happen to see any new cars that haven't been added yet, or have a better picture of it, then feel free to message me or post it in in the comments.
#1 - Jamie McMurray: McDonald's Chevrolet
#2 - Brad Keselowski: Miller Lite Ford
#5 - Kasey Kahne: Farmers Insurance Chevrolet
#5 - Kasey Kahne: Quaker State Chevrolet
#5 - Kasey Kahne: Time Warner Cable Chevrolet
#5 - Kasey Kahne: Great Clips Chevrolet
#9 - Marcos Ambrose: DeWalt Ford
#9 - Marcos Ambrose: Stanley Ford
#10 - Danica Patrick: GoDaddy Chevrolet

#11 - Denny Hamlin: FedEx Express Toyota
#14 - Tony Stewart: Bass Pro Shops Chevrolet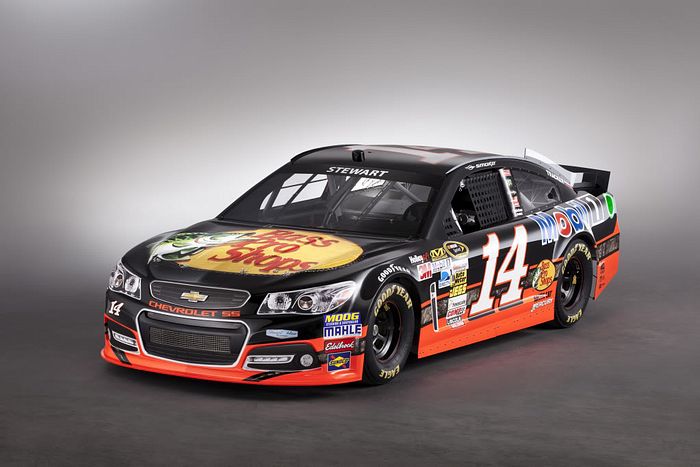 #14 - Tony Stewart: Mobil 1 Chevrolet
#15 -Clint Bowyer: Peak Toyota

#15  -Clint Bowyer: 5-Hour Energy Toyota
#16 - Greg Biffle: 3M Ford
#17 - Ricky Stenhouse Jr.: Best Buy Ford
#17 - Ricky Stenhouse Jr: Zest Ford
#17 - Ricky Stenhouse Jr: Fifth Third Bank Ford
#18 - Kyle Busch: M&M's Toyota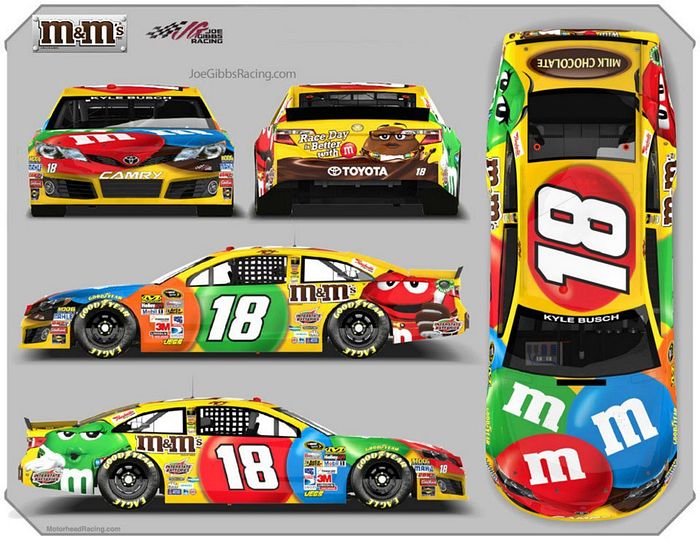 #18 - Kyle Busch: Interstate Batteries Toyota

#20 - Matt Kenseth: Dollar General Toyota
#20 - Matt Kenseth: Husky Tools Toyota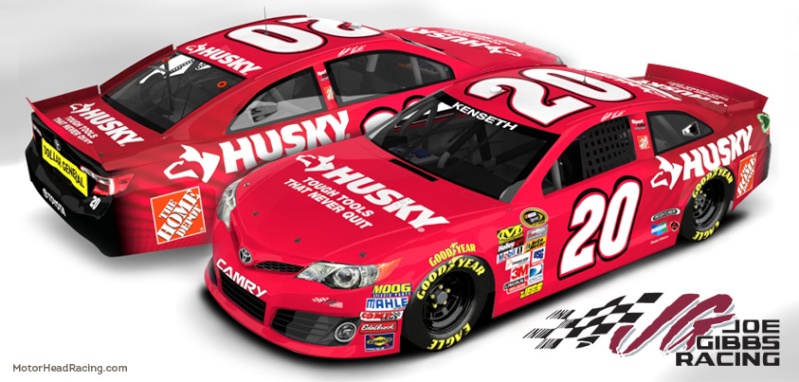 #21 - Trevor Bayne: Motorcraft Ford

#20 - Joey Logano: Pennzoil Ford
#22 - Joey Logano: Pennzoil Shell Ford
#22 - Joey Logano: AAA Ford
#24 - Jeff Gordon: Drive To End Hunger Chevrolet

#24 - Jeff Gordon: Pepsi Max Chevrolet
#27 - Paul Menard: Menards Chevrolet
#29 - Kevin Harvick: Budweiser Chevrolet
#31 - Jeff Burton: Caterpillar Chevrolet
#31 - Jeff Burton: Cheerios Chevrolet
#31 - Jeff Burton: Caterpillar Hybrid Excavator Chevrolet (to be run at Texas)
#33 - Austin Dillon: Honey Nut Cheerios Chevrolet
#39 - Ryan Newman: WIX Filters Chevrolet
#39 - Ryan Newman: Quicken Loans Chevrolet
#39 - Ryan Newman: Outback Chevrolet
#42 - Juan Pablo Montoya: Target Chevrolet
#43 - Aric Almirola: Smithfield Ford

#43 - Aric Almirola: Farmland Ford
#43 - Aric Almirola: Eckrich Farms Ford
#43 - Aric Almirola: Gwaltney Bacon Ford
#47 - Bobby Labonte: House-Autry Toyota

#48 - Jimmie Johnson: Lowe's Chevrolet
#48 - Jimmie Johnson: Jimmie Johnson Foundation Chevrolet
#48 - Jimmie Johnson: Lowe's Yellow Special (to be run in the Budweiser Shootout)
#48 - Jimmie Johnson: White-out Lowe's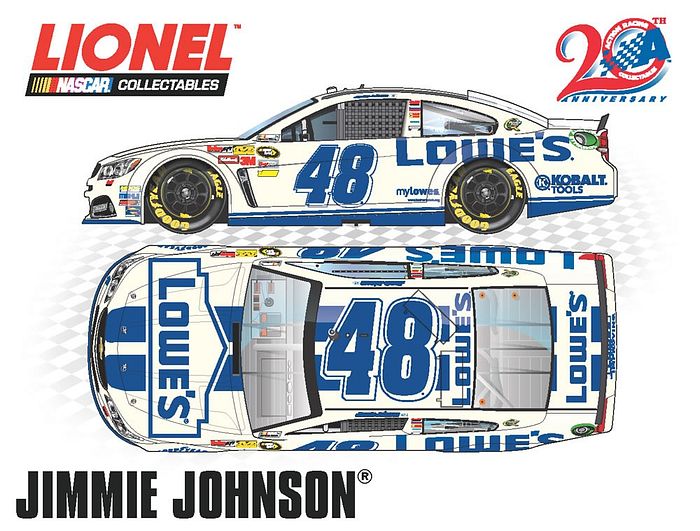 #55 - Brian Vickers: Aaron's Toyota
#56 - Martin Truex Jr.: NAPA Toyota
#78 - Kurt Busch: Furniture Row Chevrolet
#88 - Dale Earnhardt Jr: Diet Mountain Dew Chevrolet

#88 - Dale Earnhardt Jr.: National Guard Chevrolet

#92 - Brian Keselowski: BK Moving Ford
#99 - Carl Edwards: Fastenal Ford
#99 - Carl Edwards: Aflac Ford
#99 - Carl Edwards: UPS Ford